Chart of Prison Population and Race in the US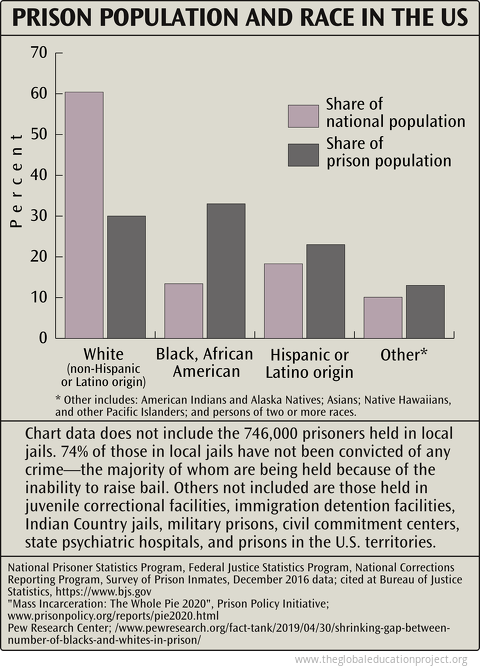 Chart data does not include the 746,000 prisoners held in local jails. 74% of those in local jails have not been convicted of any crime—the majority of whom are being held because of the inability to raise bail. Others not included are those held in juvenile correctional facilities, immigration detention facilities, Indian Country jails, military prisons, civil commitment centers, state psychiatric hospitals, and prisons in the U.S. territories.
Sources
National Prisoner Statistics Program, Federal Justice Statistics Program, National Corrections Reporting Program, Survey of Prison Inmates, December 2016 data; cited at Bureau of Justice Statistics, https://www.bjs.gov
"Mass Incarceration: The Whole Pie 2020", Prison Policy Initiative; www.prisonpolicy.org/reports/pie2020.html
Pew Research Center; www.pewresearch.org/fact-tank/2019/04/30/shrinking-gap-between-number-of-blacks-and-whites-in-prison/

Tags: prisoners in the united states, black and african american prisoners, hispanic and latino prisoners, white prisoners, share of prisoners by race, racial inequalityt, prison population and race in the us, wealth-inequality
Sign up for EARTH Dispatches
Enter you email below to get jaw dropping charts and maps delivered straight to your inbox.
Get the EARTH presentation
A 150 page high-resolution PDF containing all maps, charts and data on EARTH website; use as an information-packed educational slide show, printed booklet or a set of single-page handouts.
Learn More