New! The Earth Presentation:
The most comprehensive slide show on Earth!
110 Slides and PDF handouts! Get a jump on your educational efforts with the
Earth Presentation, a unique and timely educational tool you can't afford to ignore.
The perfect companion to the wall chart.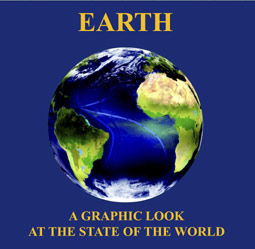 "Visually and factually stunning..."
- Alan Solomonow, American Friends Service Committee
Dear Visitor,
Are you concerned about the world your children will live in, about the millions of people suffering today and about the future of the planet? Have you ever wondered where you could find a single source for getting the REAL PICTURE about what's happening to the world and raise this awareness in others?
Then you've come to the right place.
In the summer of 2005 and 2006 the Global Education Project made several public presentations in British Columbia to hundreds of concerned people. Impactful and thought provoking, this same experience is now available to anyone who can click their way through Power Point.
All of the charts, maps and text from the Earth wall chart and website have been collated into a carefully sequenced slide show.
Each of the 110 slides are also included as individual PDF's that can be passed around or emailed and have been linked to an index that will help you find each one either by sequence or topic; a great way to share information or develop curriculum or conference materials.
"Why a Presentation?"
It is clear to us that many, many people are searching for a simple and reliable way to educate themselves about what is actually happening to the world, without political spin or vague conclusions. That's why we put up this web site with the results of years of research on it, completely free, in the most accessible format we could come up with - graphs and maps where one can SEE the state of the world. The web site is visited by over 100,000 people like you each year.
But the internet has limitations.
It is usually a solitary experience with little opportunity for dialogue or interaction. The synergy that comes from many people coming together and reaching a collective awareness has power and can be the start of great change.
Paul Hawken describes what he witnessed after years of giving lectures on the environment:
"What does meet the eye is compelling: ..... ordinary and not-so-ordinary people willing to confront despair, power, and incalculable odds in order to restore some semblance of grace, justice, and beauty to this world."
That's why we put together these resources.
Because the facts need to be seen.
People are empowered by the truth.
Some of what you'll see in the
Earth Presentation
The key information on the world's energy supply -- who has it, who needs it, and approximately how long it's going to last
How to dispel any doubt about the truth of climate change with one simple chart
The shocking truth about changes in the distribution of wealth in the US and around the globe during the last 20 years
The condition of the world's forests, fisheries and soil, laid out in simple bar graphs and maps.
See It With Your Eyes.
Humans are suited to understand things
visually, not just mentally
. Research has shown that people learn many times faster if they can SEE what they're learning, rather than just thinking about it.
&nbsp&nbsp With the Earth Presentation, along with the Wall Chart, the data is all there in a
graphic
format - Easy to see, easy to understand, and
pretty.
(We know the state of the world isn't pretty, but we've been amazed at how many people have exclaimed how beautiful the charts and maps are. -- Alan Solomonow of the AFSC called it
"visually stunning,"
and in comments about our
previous wall chart on the Middle East
included words like "magnificent" and "beautifully produced".
"...a comprehensive information source for anyone who cares about the world that our children will inherit from us."
- Maria Pop, Rodale Institute
"Just the Facts"
There's nothing like a political agenda to make good information hard to swallow. With this in mind, the Earth Presentation includes only
well referenced, non-partisan data, giving you a reliable foundation for thorough education on the issues that matter most
. Each map, graph and chart is accompanied with a source reference, most of which are accessible online. We didn't just want to find the most important information about the planet. We also had to find information that was reliable enough that nobody could contest it.
"The State of the World in Two Hours"
110 slides showing incredible charts and maps
, the
EARTH
presentation gives you what you can't get anywhere else: a concise overview of the state of the entire planet in a few hours.
With this presentation you can:
Gain a quick comprehension of the world's most important issues -- the ones that have the potential to threaten the future of life as we know it -- we've put together the most important info so you don't have to.

Gather together your friends, family, students, co-workers-- -- everyone has something to learn from this presentation, guaranteed.

Get all the data you need in one place. Comprehensive, impartial information on a wide range of issues, all referenced to an authoritative source..

BUT THAT'S NOT ALL!
The GEP No-Risk Guarantee

We're so sure you'll be totally DELIGHTED with the educational power of the Earth presentation, we're offering a complete no-risk guarantee -- if you're not 100% satisfied that the Earth Presentation is one of the best single resources on the state of the planet IN THE WORLD, simply tell us why and we will give you a full refund.

YOU CAN'T LOSE with our 100% Satisfaction Money Back Guarantee. P.S.

THE PERFECT COMPANION TO THE PRESENTATION, the 27" by 36"

EARTH Wall Chart

is available folded (fits in your pocket), or laminated for a beautiful long-lasting finish.

Our previous wall chart covering the Middle East is in use by over 400 colleges and universities in Canada, US, and internationally, as well as thousands of individuals and organizations.

Click here

to find out what some of them had to say about the Middle East wall chart.

Any questions?

Ask here!
See what activists, educators and students are saying about Earth:
"Very useful for educators and students around the world" - Diileep Bhagwut, Science & Technology Education, UNESCO

"Wow! A really great and useful site. I will certainly use it in my teaching." - Dr. Dickson Despommier, Columbia University

"These great posters will be provided to all science teachers in our local school district from grades 6-12 as a curriculum supplement." - Alejandra Roman, National Council for Science and the Environment

"...a wonderful resource." - S. Shields, Oklahoma Dept. of Environment

"The poster is great and I plan to use it a lot. Already shared it with other teachers and they love it too." - Jean D'Angelo, High School Agriscience Teacher

"Very useful in helping us develop materials for various projects and for students in the secondary grades." - Sonia Giovannina Vani, Council of Canadians

"...an awesome site. I have only begun to explore it. But what a tremendous resource." - Robert McAfee, Executive Director, Arkansas Environmental Education Association

"Your poster is ideal for my teachers' institute - rich in data on many different facets of the earth system... This data will provide a rich source of questions to drive inquiry..." - David L. Smith, Ph.D., Director of Professional Development, Da Vinci Discovery Center, Allentown, PA