Chart of Aquaculture Environments by Country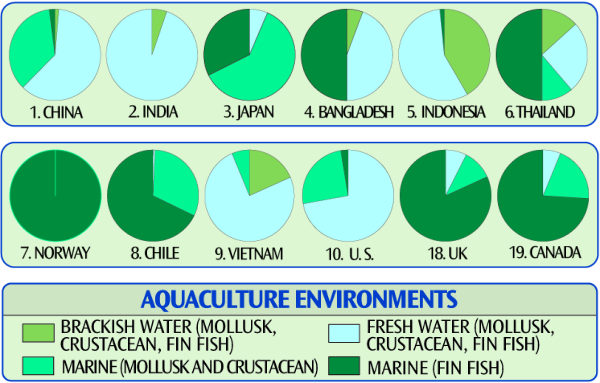 The high protein feed for farmed salmon is largely composed of ocean caught fish meal and meat offal from poultry and hog processing. Because of bio-accumulation of toxins in the feed, "consumption of farmed salmon even at relatively low frequencies results in elevated exposure to dioxins and dioxin-like compounds with commensurate elevation in estimates of health risk." Farming of shrimp in Asia has lead to significant destruction of natural mangrove ecosystems.
Genetically engineered fish are being readied for commercial production in open net pens.
Sources
UN FAO FISHSTAT Database: http://www.fao.org/fi/statist/FISOFT/FISHPLUS.asp
Tags: aquaculture, fisheries, aquaculture environments by country, fisheries-and-aquaculture
Sign up for EARTH Dispatches
Enter you email below to get jaw dropping charts and maps delivered straight to your inbox.
Get the EARTH presentation
A 150 page high-resolution PDF containing all updated maps, charts and data on EARTH website; use as an information-packed educational slide show, printed booklet or a set of single-page handouts.
Learn More