Chart of Human Population Growth by Region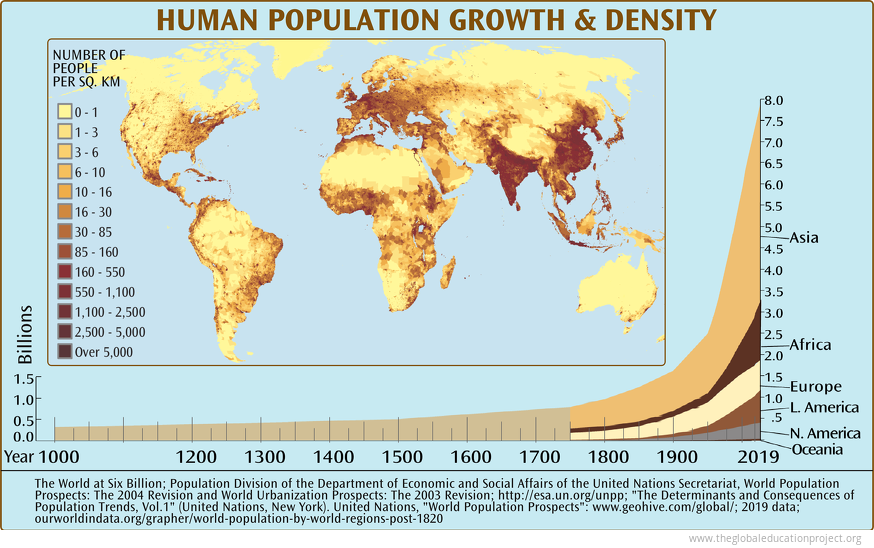 Directly or indirectly, the human species already captures nearly 40% of the total biological productivity on land and 70% of the productivity of the marine environment—the "net primary productivity" of the planet—for its exclusive use. The rate of increase in human use is about 2% per year."
The UN defines a slum household as a group of individuals living under the same roof with one or more of the following conditions: lack of access to improved water; lack of access to improved sanitation; insufficient living area; and lack of durability of housing. Although the overall proportion of the urban population living in slums worldwide fell from 28% in 2000 to 23% in 2014, in absolute terms, the number of urban residents living in slums rose from 792 million to an estimated 880 million over the same period. In Least Developed Countries, nearly two-thirds (62%) of urban dwellers live in slum conditions.
2005 version of this chart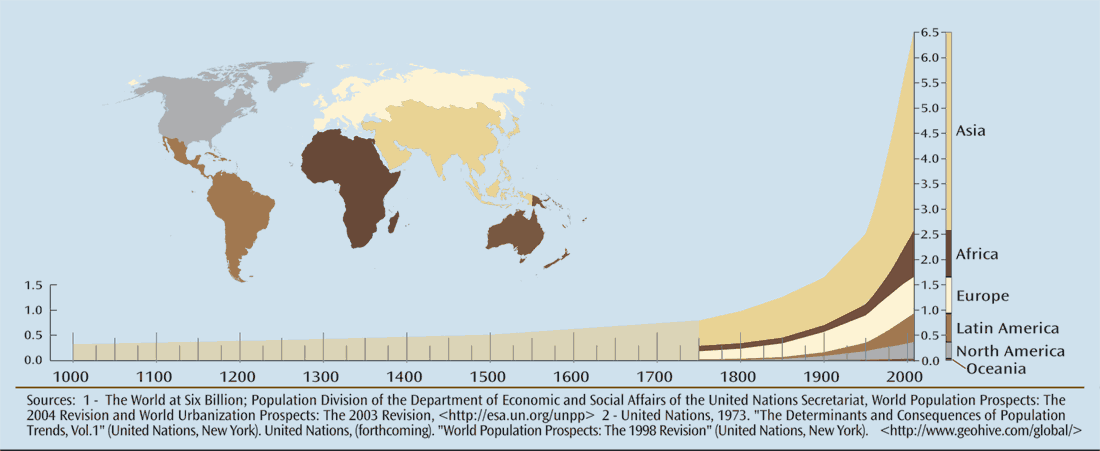 Sources
Environmental Research Foundation, www.ejnet.org/rachel/rhwn256.htm
Map Data Source: Center for International Earth Science Information Network, Columbia University, "Grided Population of the World"
Text: UNESCO World Water Assessment Programme, Office for Global Water Assessment; www.unesco.org/water/wwap

Tags: population growth, population growth by region, population of the world since the year 1000, human population growth by region, global-ecology
Sign up for EARTH Dispatches
Enter you email below to get jaw dropping charts and maps delivered straight to your inbox.
Get the EARTH presentation
A 150 page high-resolution PDF containing all maps, charts and data on EARTH website; use as an information-packed educational slide show, printed booklet or a set of single-page handouts.
Learn More