Chart of Outdoor Air Pollution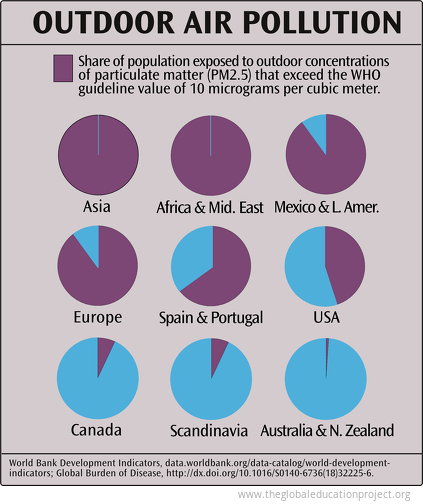 According to the 2017 Global Burden of Disease study, 3.4 million people died prematurely as a result of outdoor air pollution—more than 3 times the number who died from HIV/AIDS.
Air pollution—the combination of outdoor and indoor particulate matter, and ozone—contributed to nearly 1-in-10 deaths globally in 2017.
Sources
World Bank Development Indicators, data.worldbank.org/data-catalog/world-development-indicators; Global Burden of Disease, http://dx.doi.org/10.1016/S0140-6736(18)32225-6
Tags: air pollution, atmosphere, particulate matter, deaths from air pollution, outdoor air pollution, toxics-biotechnology
Sign up for EARTH Dispatches
Enter you email below to get jaw dropping charts and maps delivered straight to your inbox.
Get the EARTH presentation
A 150 page high-resolution PDF containing all updated maps, charts and data on EARTH website; use as an information-packed educational slide show, printed booklet or a set of single-page handouts.
Learn More