"Most americans would assume that basic toxicity testing is available and that all chemicals in commerce today are safe... this is not a prudent assumption... most of them have never been tested." - US EPA [1]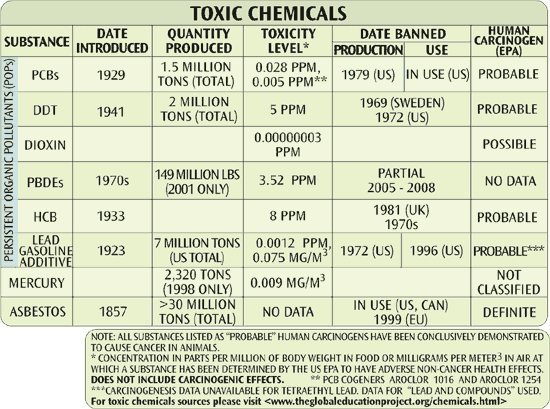 | | |
| --- | --- |
| | Nearly one million children in the United States still have unacceptable blood lead levels, mostly as a result of lead paint exposure. Adverse health effects from lead include behavior disorders, anemia, mental retardation, and permanent nerve damage. Fetuses and children are especially susceptible to central nervous system damage or slowed growth. |
In 1998 the US Environmental Protection Agency did a study of the hazard data available on 2,863 chemicals that the US imported or produced in quantities greater than 1 million lbs/year. Most had never been tested to determine how toxic they were to humans or the environment. Only 7% of those chemicals had been subjected to the internationally accepted 6 basic tests. 43% had no available test data. Of the 203 chemicals on the toxic release inventory, only 54% had basic test data. Only 25% of 491 chemicals used by children and families in consumer products had full screening data. It would cost less than 0.2% of the total annual sales of the top 100 us chemical companies to fill all of the basic screening gaps for all these high production volume chemicals. - US EPA [1]

Over 70,000 new chemicals have been brought into commercial production and released to the environment in the last 100 years.

15 million Americans have a PBDE (Polybrominated Diphenyl Ether) body burden of more than 400 ppb (parts per billion); a hundred times the concentration known to cause permanent effects in laboratory animals. [2]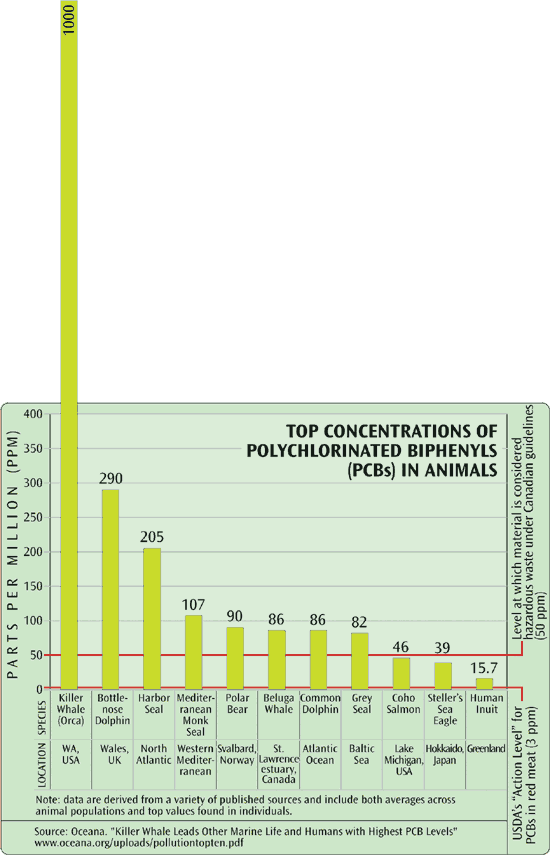 As of 1994, over 50 million tons of radioactive PCB contaminated wastes were
in storage awaiting disposal. Radioactive PCB wastes were being generated
at a rate in excess of 5 million tons per year.[3]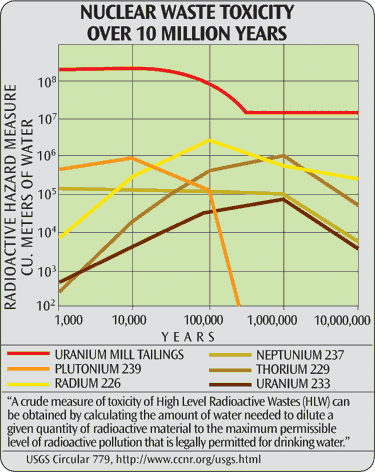 Both the USA and Canada have over 200 million
tons of uranium tailings which retain 85% of their
original radioactivity.






Text Sources
1. US Environmental Protection Agency, http://www.epa.gov/oppt/chemtest/hazchem.htm
2. Environmental Working Group, http://www.ewg.org/reports/taintedcatch/part3.php
3. EPA Management of Polychlorinated Biphenyls in the US; http://www.chem.unep.ch/pops/indxhtms/cspcb06.html

Chemicals Table Sources

Column 2. "Late lessons from early warnings: the precautionary principle 1896-2000." Europen Environment Agency Environmental issue report No 22 http://reports.eea.eu.int/environmental_issue_report_2001_22/en/tab_content_RLR
UNEP General Program of Action for the Protection of the Marine Environment from Land Based Activities "History of Persistent Organic Pollutants" http://pops.gpa.unep.org/04histo.htm;
US EPA http://www.epa.gov/history/topics/perspect/lead.htm;
London Hazards Centre http://www.lhc.org.uk/members/pubs/books/asbestos/asb13.htm

Column 3. "Late lessons from early warnings: the precautionary principle 1896-2000." Europen Environment Agency Environmental issue report No 22 http://reports.eea.eu.int/environmental_issue_report_2001_22/en/tab_content_RLR
US EPA "Persistent Organic Pollutants: A Global Issue, A Global Response" http://www.epa.gov/international/toxics/pop.htm
Environmental Working Group http://www.ewg.org/reports/taintedcatch/part1.php
EPA http://www.epa.gov/history/topics/lead/02.htm
LaDou, Joseph. "The Asbestos Cancer Epidemic" Environmental Health Perspectives Volume 112, Number 3, March 2004 http://ehp.niehs.nih.gov/members/2003/6704/6704.html

Column 4. US EPA Integrated Risk Information System (IRIS) http://www.epa.gov/iris/index.html
US Occupational Safety & Health Administration (OSHA) http://www.osha.gov/dts/chemicalsampling/toc/toc_chemsamp.html

Column 5. EPA web site http://www.epa.gov/history/topics/pcbs/01.htm;
UNEP General Program of Action for the Protection of the Marine Environment from Land Based Activities "History of Persistent Organic Pollutants" http://pops.gpa.unep.org/04histo.htm and New York Times February 23, 2002 http://query.nytimes.com/gst/abstract.html?res=F 70E13F93B5A0C708EDDAB0894DA404482&incamp=archive:search
UK Pesticide Safety Directorate http://www.pesticides.gov.uk/approvals.asp?id=55 and UNEP General Program of Action for the Protection of the Marine Environment from Land Based Activities "History of Persistent Organic Pollutants" http://pops.gpa.unep.org/04histo.htm

Column 6. US EPA Integrated Risk Information System (IRIS) http://www.epa.gov/iris/index.html
US Occupational Safety & Health Administration (OSHA) http://www.osha.gov/dts/chemicalsampling/toc/toc_chemsamp.html