Earth has a history of climate change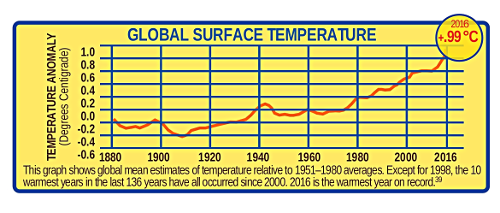 Changes in the sun, the Earth's orbit, ocean currents and volcanic eruptions are natural effects on climate. Studies of tree rings, glacial layers, ocean sediment, pollen remains, sedimentary rocks, coral reefs and air trapped in bubbles in ice cores, reveal a climate record going back hundreds of thousands of years. Fossil records show that in the past 490 million years dramatic changes in climate have caused at least five mass extinctions. Some studies estimate that the current rate of extinction is 100 times faster than what would occur without human impact.
The climate is changing now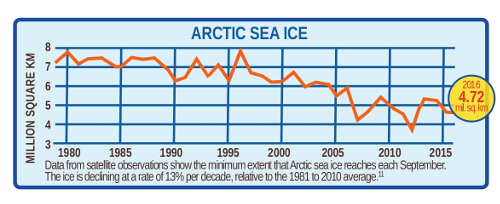 Indicators that the climate is changing include: rising mean temperatures; rising ocean temperatures; increased ocean acidity; sea level rise; decrease of ice in the Arctic and Antarctic; and retreat of almost all alpine glaciers. Recent studies show that the paths and speed of the northern jet stream (large rivers of wind high in the atmosphere) are shifting because of warmer temperatures in the Arctic—bringing colder winters
Today's climate change is from human causes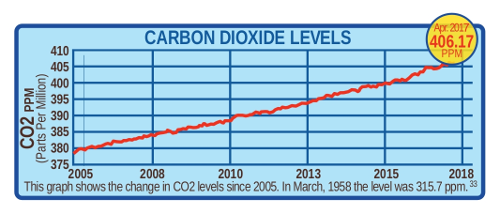 The dominant cause of present-day climate change is the increase in carbon dioxide, methane and other greenhouse gases emitted into the atmosphere by human activities.* Higher concentrations of greenhouse gases are the predominant cause of warming temperatures—geological history shows that as levels of greenhouse gases increased, the earth warmed. Climate change will likely be one of the main drivers of extinction in the 21st century because of the speed at which average temperatures are warming—faster than at any time in the last 15,000 years.
* 97% of active climate scientists agree that today's climate change is caused by human activities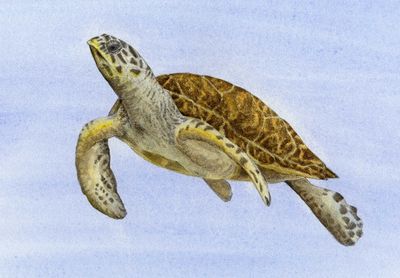 Species are at risk of extinction
A global mean temperature rise of 2 to 3 °C will greatly increase the percentage of species at risk and amplify the dangerous impacts on biodiversity and ecosystems. If an ecosystem is already degraded from other causes not related to climate, such as pollution, a species is less resilient or likely to adapt. The animals shown here illustrate the wondrous diversity of life on Earth, and also highlight the many ways climate change puts all forms of life on the planet, including humans, at risk.
Animals at Risk from Climate Change
educational poster presents a succinct overview of the fundamental impacts of greenhouse gases—the causes, effects and risks to all forms of life on the planet.
By highlighting 25 animals selected for their vulnerability to climate change, the complex interaction of biological traits and environmental conditions that cause a species to be susceptible are made simple and understandable through illustrations, key graphics and brief explanatory text.
24" x 30", printed on FSC certified recycled paper.
The 75 page downloadable presentation includes all illustrations, keys, text and charts from "Animals at Risk from Climate Change"—a unique and timely companion to the wall poster. The flexible PDF platform functions both as a carefully sequenced slide show and a set of printable handouts.
"The presentation is extremely valuable for my work and teaching....You present some of the findings better than I have in the original study."
~Wendy Foden, Chair, IUCN Climate Change Specialist Group: Species Susceptibility to Climate Change Impacts
Without the constraints of the printed format, we have added a 15 page appendix detailing the complexities of topics that include: the sixth mass extinction; scientific consensus; education and climate change; volcanoes; water vapour; abrupt climate change; mitigation; and geoengineering.
A useful tool for classroom or public demonstrations; the synergy that comes from many people coming together and reaching a collective awareness has power and can be the start of awareness and change.
Please note: the purchase of the presentation is intended for a single user. We are a small non-profit organization, so if you would like to share or distribute additional copies, we ask that you purchase them, make a donation, or contact us and let us know. Many thanks.

Comprehensive and rigorously annotated to reliable sources, these resources are valuable, timely and relevant educational aids. If you are an educator, activist, retailer, or interested in becoming a sponsor to enable free distribution to teachers, please contact us at mm@theglobaleducationproject.org or 250 895 4327.